AMPLIFYING IMPACT
-
Philosophies and Tools for Spearheading Culture, Leadership and Innovation in Tomorrow's World
1282782
Program Overview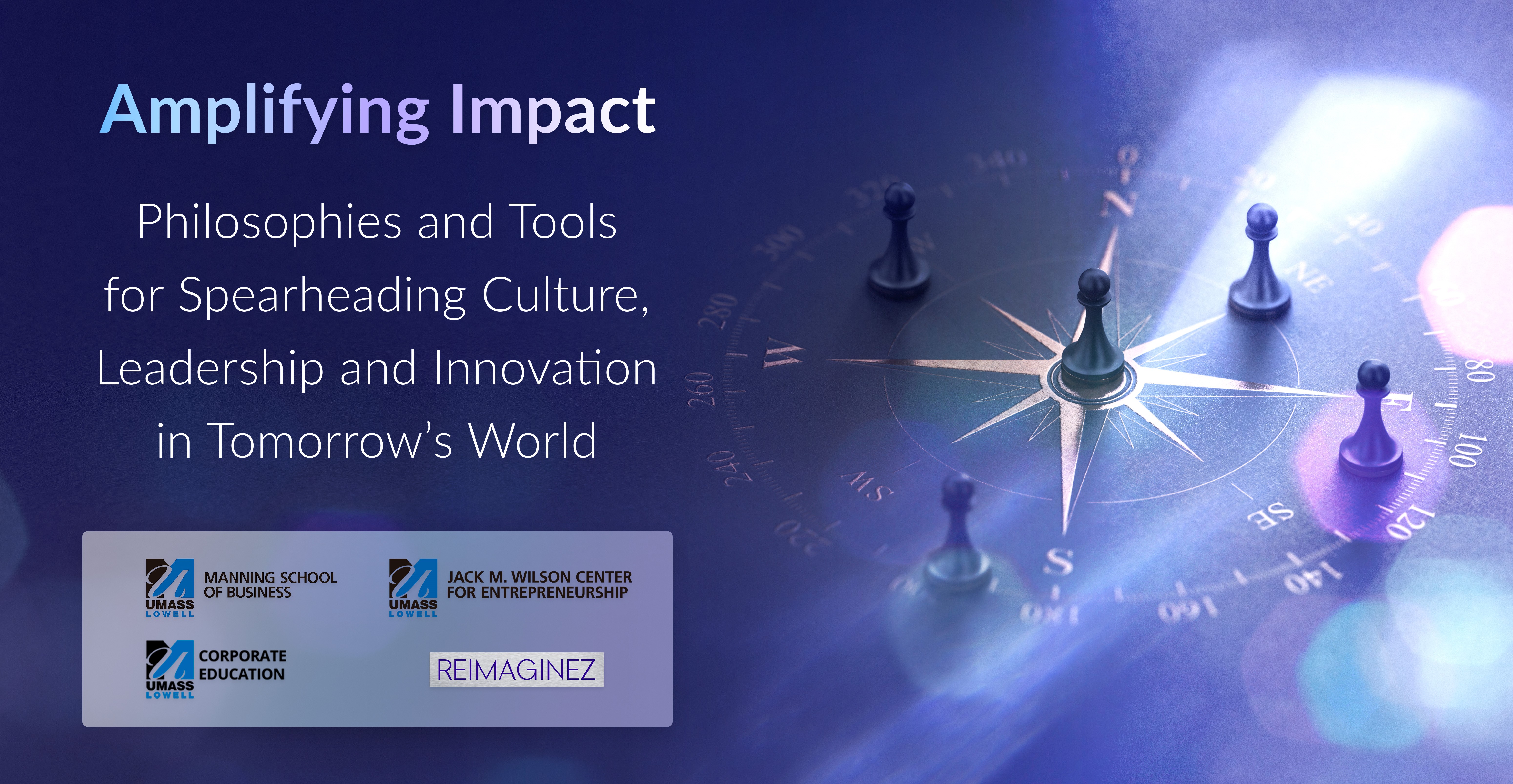 What are the forces driving the next era of business and entrepreneurship?
How do you design and scale a thriving company culture to support performance, innovation and growth?
What will give you an edge and help you stand out as an innovator in the market of tomorrow?
UMass Lowell's Manning School of Business, the Jack M. Wilson Center for Entrepreneurship, and Reimaginez are joining forces in a co-branded series of executive workshops aimed at helping the brilliant founders and executives of today lead the next generation of innovation in business. Over the past 15+ years, UMass Lowell has focused on entrepreneurship and innovation research, developed and delivered academic programs, and built a robust ecosystem. Reimaginez is an award-winning cultural and management consulting firm dedicated to designing and scaling thriving company cultures. In this unique collaboration, we are offering a hands-on, action-oriented Executive Workshop Series on Culture, Leadership and Innovation.
A Program Designed for Acceleration and Connection
With an actionable program that includes interactive keynotes, workshops, panel discussion, case studies and a variety of activities designed for amplifying your impact through the power of meaningful connection and networking with executives and companies of all sizes, this series will bring multiplied value to your leadership by providing insight in:
Understanding the key trends that are impacting your company and their ripple effect on your innovation,
Developing a contemporary understanding of the roles of innovation and entrepreneurship to maintain competitive advantage and to innovate,
Reimagining company culture and leadership to match the changing world,
And a unique, experience-based program carefully designed to foster meaningful connection and networking with fellow founders, executives, and innovators.
Who should attend?
Join us for a series of virtual and in-person events that will culminate in a 2-day workshop on the UMass Lowell campus. Amplify your impact through the power of meaningful connection and networking with executives and companies of all sizes.
Ideal for Leaders Working in Innovative Industries:
C-level Professionals
Founders and Entrepreneurs
Senior Commercial Executives
Business Development VPs and Directors
Engineering and R&D VPs and Directors
Operational VPs and Directors
See program agenda for dates, times, and session details: Amplifying Impact Workshop Series Agenda
Are you ready to harness the cutting-edge tools and frameworks that will spearhead tomorrow's world of business, innovation, and entrepreneurship?
---
Meet the Team and Organizations Behind the Workshop Series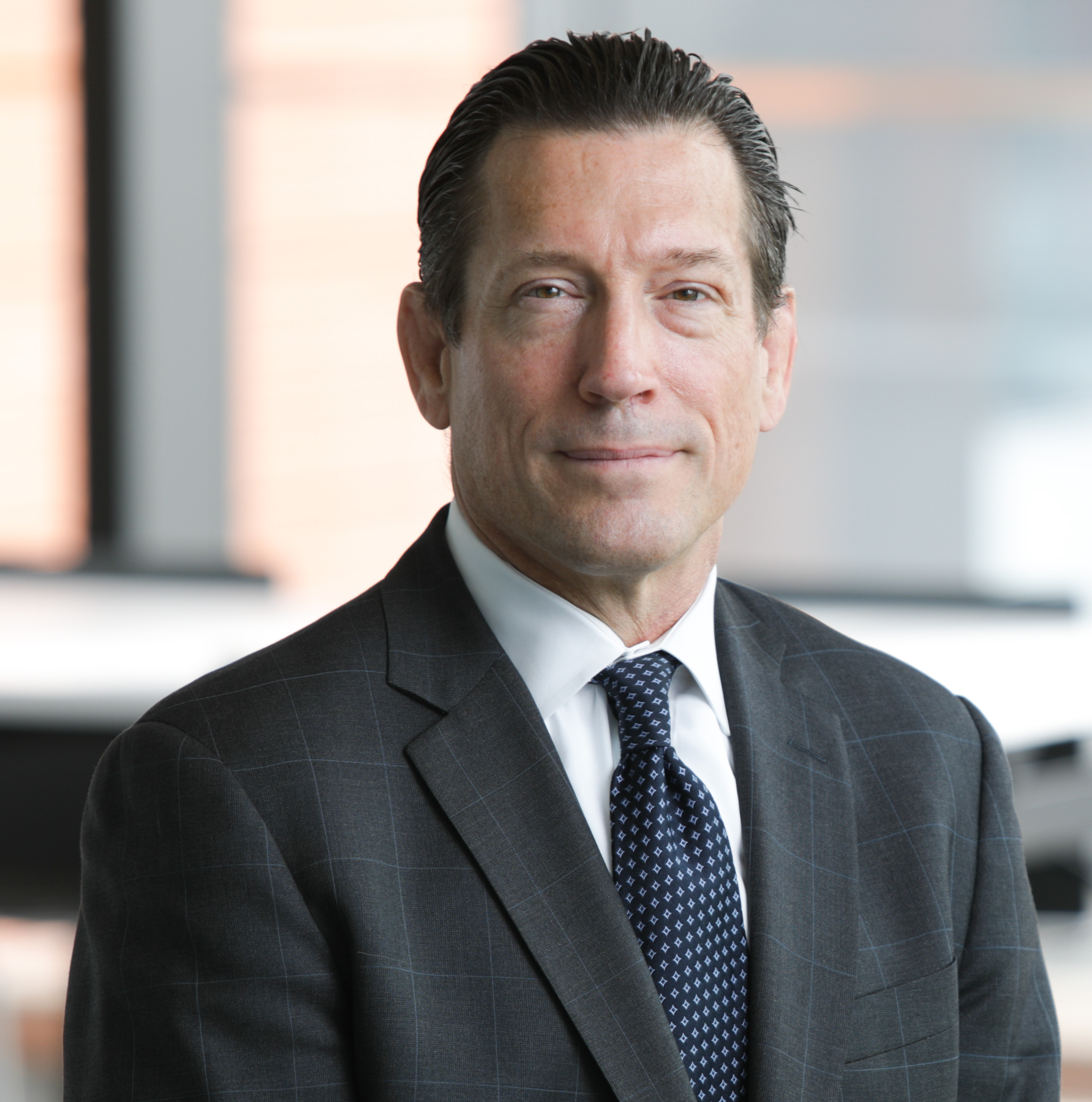 William Yelle, M.S., MBA, Director, Global Entrepreneurship Exchange (GE2), Co-director, Jack M. Wilson Center for Entrepreneurship, Visiting Lecturer, University of Massachusetts Lowell. Bill has over 30 years of experience in the biopharmaceutical industry, ranging from large pharma to early stage, venture-backed companies. He currently serves as founding CEO of FireCyte Therapeutics and Executive Chair at Violet Therapeutics. In addition, Bill is a visiting Lecturer in Marketing, Entrepreneurship, and Innovation at UMass Lowell, as well as Director of the Global Entrepreneurship Exchange (GE2) and Co-Director of the Jack M. Wilson Center for Entrepreneurship.
Previously, Bill served as an Entrepreneur in Residence at MGH-Brigham Ventures (MGBV). Before MGBV, Bill was Executive Chairman of Envisia Therapeutics, as well as an advisor to several entrepreneurial startups. Prior to Envisia, Bill served as CEO of Aldea Pharmaceuticals, where he successfully completed a series of financings and brought two programs into the clinic. Prior to Aldea, he was Senior Vice President of Corporate Development and Licensing for Sunovion Pharmaceuticals Inc. (formerly Sepracor Inc.), where he was responsible for the consummation of over 30 material transactions, the most notable being the company's sale to Dainippon Sumitomo Pharma for $2.6 billion in 2009. Bill was also instrumental in Sepracor's transition from an early-stage clinical organization into a fully integrated pharmaceutical company. Prior to joining Sepracor in 1995, Bill held various positions of increasing responsibility in Pfizer's U.S. Pharmaceuticals Group.
Bill has an M.B.A. in Management/Marketing from Columbia University, an M.S. in Organic Chemistry from the University of California at Berkeley and a B.S. Cum Laude from the University of Massachusetts Lowell.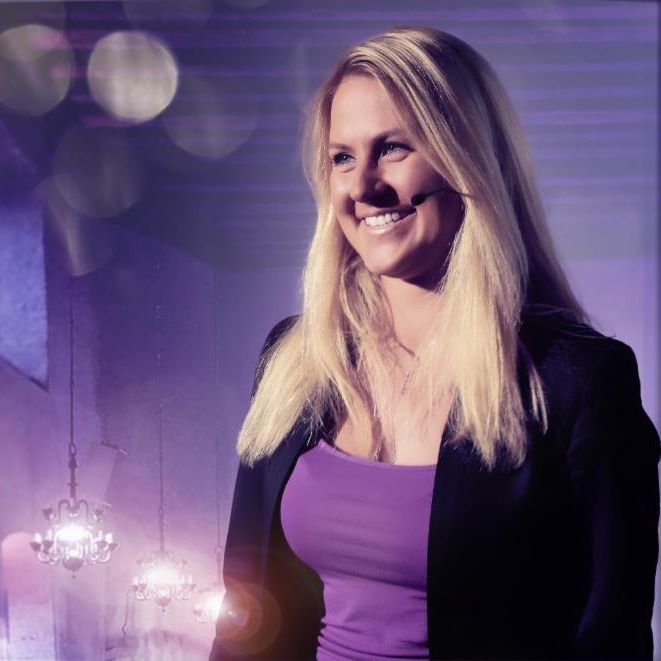 Meet Therese Gedda, Founder and CEO of Reimaginez. She is an award-winning entrepreneur known for championing thriving people and purpose-centric cultures. For 20 years, she has impacted more than 30,000 company cultures and toured over 10 countries as an invited Keynote Speaker, covering topics such as Company Culture, the Future of Work, and the High Achiever Mindset. Therese has been featured at exclusive invitation-only events led by companies such as Apple and LVMH, as well as international conferences such as Inbound in Boston where she appeared alongside Michelle Obama, Adam Grant, and Brene Brown. Other notable conferences include Viva Tech in Paris, TEDx in Stockholm, and Web Summit in Dublin. Offstage, Therese has been featured in NBC News, Fortune, Nasdaq, and VentureBeat.
Therese is also a sought-after Executive Coach for High Achievers. Due to her success working directly with over 1,000 founders, investors, and C-suite clients over the years, they often refer to her as "Yoda," "Master Teacher," and "Founder Therapist."
As a result of her dedication to entrepreneurship and company culture, Therese has been recognized by the Nordic 100 for her cultural and Future of Work efforts, naming her one of the most influential and impactful people from the Nordics. This list is equivalent to the 'Forbes 30 under 30' and 'Forbes 40 under 40' in the United States. She's also been recognized by the SKAPA foundation and received the Future Innovator Award given in memory of Alfred Nobel. This award is one of the most prestigious of its kind, and the recipients are considered to be "Swedish Champions of Innovation."
Panelists
Michael P Ciuchta, MBA, Ph.D.
Dr. Ciuchta is an Associate Professor in the Department of Marketing, Entrepreneurship & Innovation at the University of Massachusetts Lowell. He received his PhD in Organization Theory/Strategic Management from the University of Wisconsin Madison and an MBA in Finance from the Wharton School. His research adopts a behavioral approach to studying institutions and entrepreneurship with a particular focus is on organizational learning and identity and entrepreneurial finance. Mike is a Fulbright Scholar and is extensively published. This includes articles in the Journal of Management, Small Business Economics, Journal of Business Venturing, International Journal of Entrepreneurial Behavior & Research, Strategic Entrepreneurship Journal, International Small Business Journal, and Entrepreneurship Theory and Practice (among others). Prior to joining academia, Mike had an extensive career in commercial banking.
Scott Latham, MBA, Ph.D.
Dr. Latham worked for 12 years in the software industry, where he experienced the highs and lows of the .com boom. After leaving industry, in 2005 he earned a Ph.D. in strategic management. His research focuses on organizational decline, disruption, and innovation; it's published in the top journals in the field, such as MIT Sloan Management Review and Harvard Business Review. His recent research on the future of work and innovation has been the basis of support from the NSF, NIH, and the Department of Labor. In the past year, he has been involved in funded efforts by the NIH to evaluate the business viability of starts ups in testing, diagnostics, and treatment of COVID. He sits on several advisory boards, including M2D2 (Massachusetts Medical Device Development) incubator, Ethos Discovery Science Council, and the Boston Federal Reserve Bank's Reimagining Work initiative which aims to ensure the future of work is equitable and accessible to all.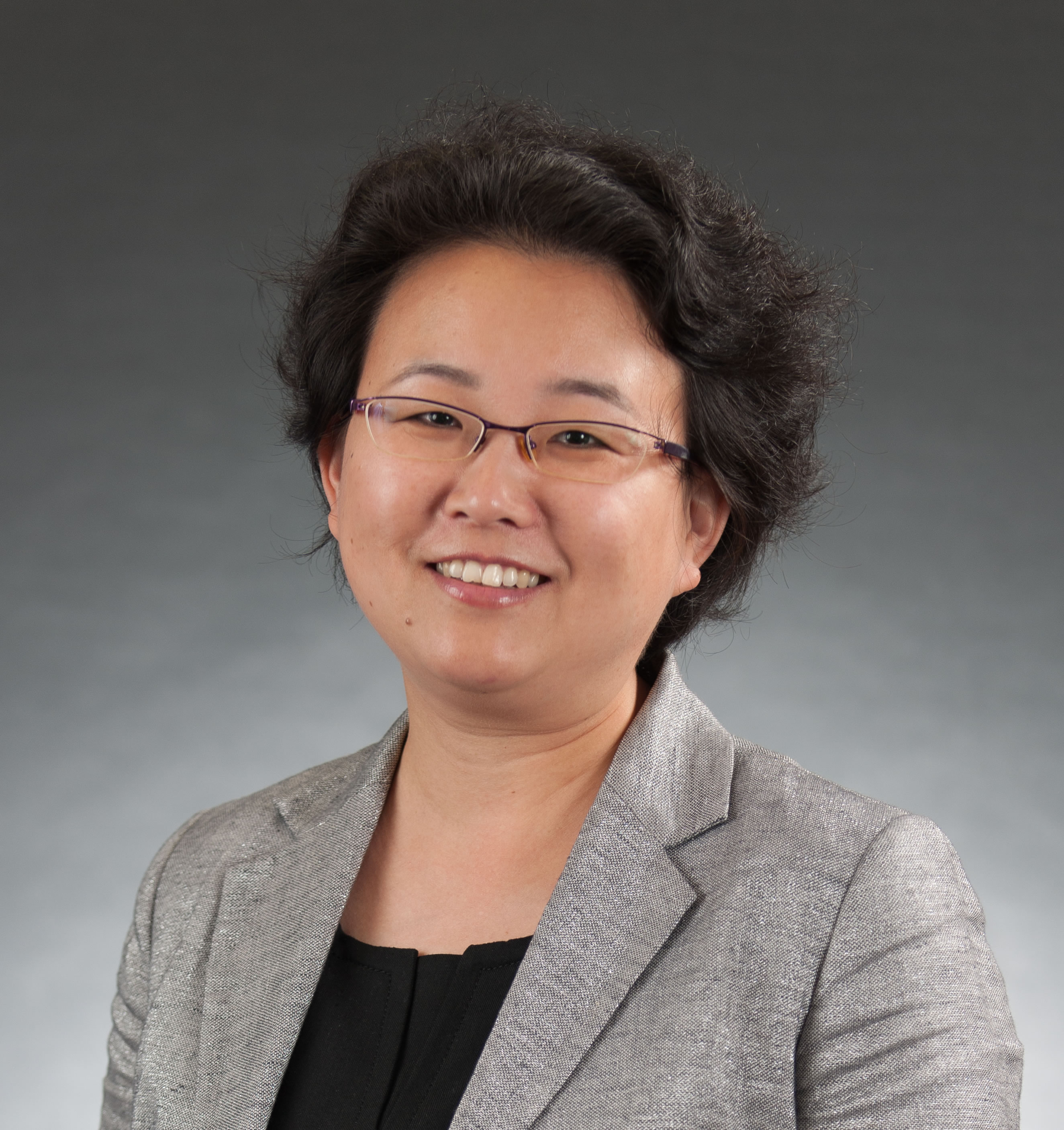 Yi Yang, MBA, Ph.D.
Dr. Yang is the Chair of the Department of Marketing Entrepreneurship and Innovation at the Manning School of Business, and co-director of the Jack Wilson Center for Entrepreneurship. Prior to that, she was the PhD program director at Manning from 2014-2017. She joined UMass Lowell in 2006 right after receiving her PhD in Business Administration from Drexel University. Her research interests include corporate venturing and entrepreneurship, organizational learning, technology management, decision-making process, DEA application in strategic management and entrepreneurship, and sustainability issues. She has published her research in academic journals such as European Journal of Operations Research, Journal of Business Research, Journal of Business Venturing, Journal of International Management, Journal of Small Business Management, Research Policy, Small Business Economics, Strategic Entrepreneurship Journal and Strategic Management Journal. She has also received several grants as PI or Co-PI from UMass Lowell, the UMass System, the Department of Energy, NSF, and US Army in support of teaching and research in the areas of entrepreneurship, strategic management and technology commercialization.


About UMass Lowell Manning School of Business
UMass Lowell's Manning School of Business is an AACSB-accredited institution. The University fosters entrepreneurship & innovation in a variety of ways, including via centers specifically designed to foster interdisciplinary and cross-cultural entrepreneurship.
The University's Jack M. Wilson Center for Entrepreneurship provides innovation in entrepreneurship education, supports faculty research, sponsors webinars and executive workshops, and offers professional development and training.
The Global Entrepreneurship Exchange (GE2) has provided entrepreneurship education to over 2,500 attendees, including both in-person and virtual workshops. In 2018, The GE2 earned the prestigious Heiskell Award for study abroad.

About Reimaginez
Culturally-Driven Companies have 18% More Revenue per Employee than the Average.
Imagine your company filled with thriving High Achievers, all striving towards greatness, lifting each other towards new heights and scaling a culture of high performance and excellence.
Reimaginez is an award-winning company that specializes in designing, redesigning, and scaling culture successfully. We help founders and top executives keep, attract, and lead High Achievers, and live as High Achievers themselves. Some of the areas we cover include One-on-One Founder and Executive Coaching, Cultural Design and Cultural Transformation Programs, Cultural Integrations for M&As, and Keynote Speaking. Over the last 20 years, the Reimaginez team has served 1000+ Founders & C-suite clients, delivered 250+ keynotes and talks, and impacted 30K+ company cultures.
Highlighted Case Studies
3x Annual Recurring Revenue (ARR)
45% Revenue Increase During the Pandemic for 18-year-old Company
10x'ing Their Average Deal Size
Saving a 9.7 million USD ARR Subsidiary from Collapsing
Tripling The Equity Stake
Executive Workshop Series Powered by UMass Lowell Corporate Education
With a large selection of seminars, expert instructors and state-of-the-art research programs, UMass Lowell Corporate Education serves as an important educational resource for companies nationally and internationally. The University, well known for its signature programs in Plastics Engineering, Information Technology, Computer Science, Business and Management, Health and Manufacturing, provides professional training opportunities on campus and at numerous corporate locations worldwide.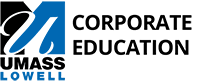 Required fields are indicated by .